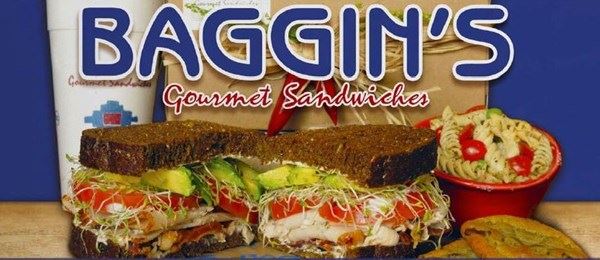 To our Favorite Customers! 
We NOW deliver anytime we are open with our new BAGGIN'S app or online ordering system.
Good news! 
Because of recent labor shortages, we are now using white glove delivery services through the Door Dash work force. This means that deliveries can only be initiated through our online services.
When you order through us (www.bagginsgourmet.com or our app), you do not pay high menu item costs or service fees like you would on 3rd party delivery services (UBER, DoorDash, Grubhub). You will only be charged $7.99 delivery fee no matter the size of your order.
Good news!
Download our BAGGINS app through the Apple or Play store to get started. Your first order will give you $3.00 off your sandwich or salad.
Good news!
You will also be collecting cookie points to redeem for your favorite items. This is our Unforgettable Rewards program.
Good news! 
Don't forget to sign up for our text list, too. Here you will get notifications when we have specials or bonus cookie point days!
Text the word BAGGINS to 1-877-797-0444