Here are some ideas for you!
***
Don't forget to check out our FAQ at the bottom of the page for more info!
Try our GIANT SUB SANDWICHES . Each foot feeds around 6 people.  These are no generic sub-place foot long sandwiches.  These are GIANT 3-4 inch wide by 12 inches long.  You can get any of our Baggin's signature sandwiches on our gourmet giant sub bread or build your own creation.   These can even be added to a basket style catering as well.  Your event. Your choice.  This is perfect for casual gatherings like graduation parties, sporting events, kids birthday parties and more.
You can even get your lunch time favorites in our famous basket caterings.  There is no extra charge for  the use of our premium baskets.   They are a borrowed item and must be returned within 24 hours to the store.  Our basket caterings create quite a stir at most client luncheons and parties because it looks like you took a lot of time to create such a quaint tablescape for your clients or guests. Shh!  We won't tell your secret.  Our caterings in baskets are impressive when we decorate with tissue paper and fresh flowers.  If you do not want to be responsible for baskets and need to breakdown your event quickly, we recommend our disposable  Baggin's sandwich boxes and trays.  They are decorated the same as our baskets but can be easily packed up or  thrown away.
Did you know we provide colorful tissue paper and flowers to all of our caterings. Tell us your color scheme in advance and we will try our best to arrange your catering to match.
Did you know that all caterings come with our delicious chocolate chip cookie, too.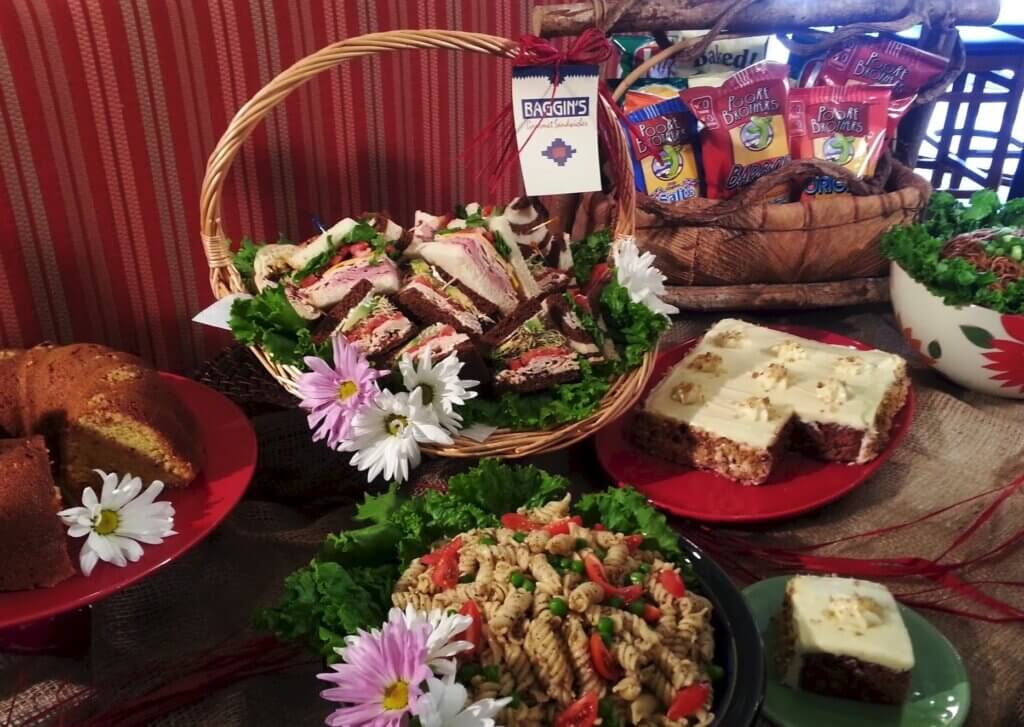 We do salads, too. Order individual salads or a large catering salad that feeds 8-12 people. They can even be set up as a build-your-own salad.  
What about the sides?  Yep! We do it all from veggie and fruit platters to our in-house made deli salads.
We sell all of our Coleslaw, Potato Salad, Chinese Sesame, Chicken Bow Tie, and Pasta Salad all by the pound. Each pound feeds 4 to 5 people.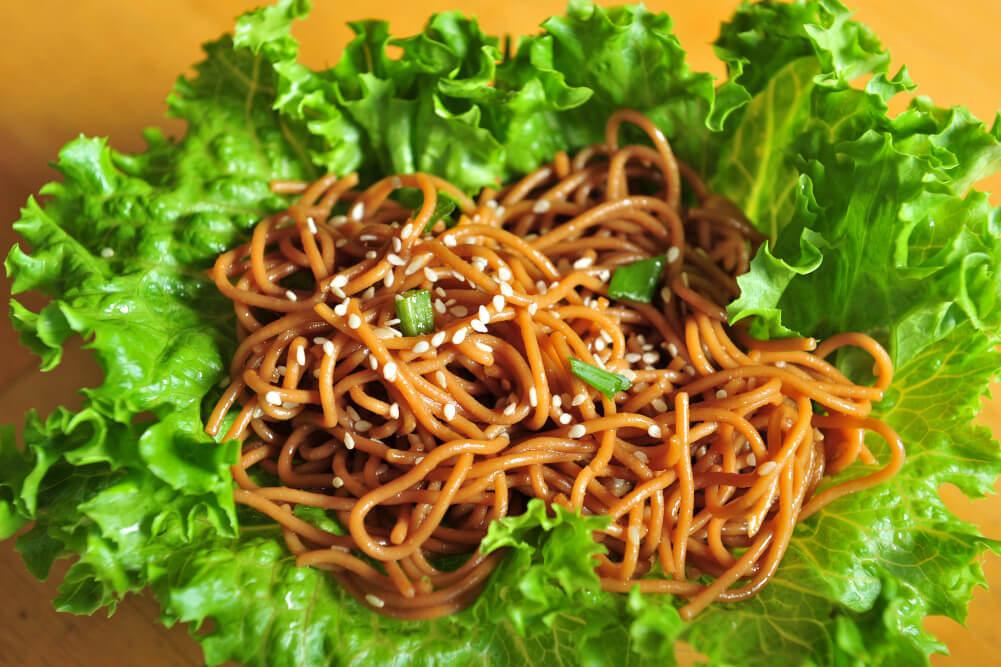 Our veggie and fruit platters are made that day.  Veggies and fruit are hand picked by our managers and arranged on a large platter.  
All Baggin's salad dressings are made in house daily.  We do a lot in that kitchen of ours. We believe we have the best Ranch dressing in town. It is included with our veggie trays. 
Fruit platters come with seasonal fruit and arranged on our platters with lush green leaf for dividers and our homemade fruit dip.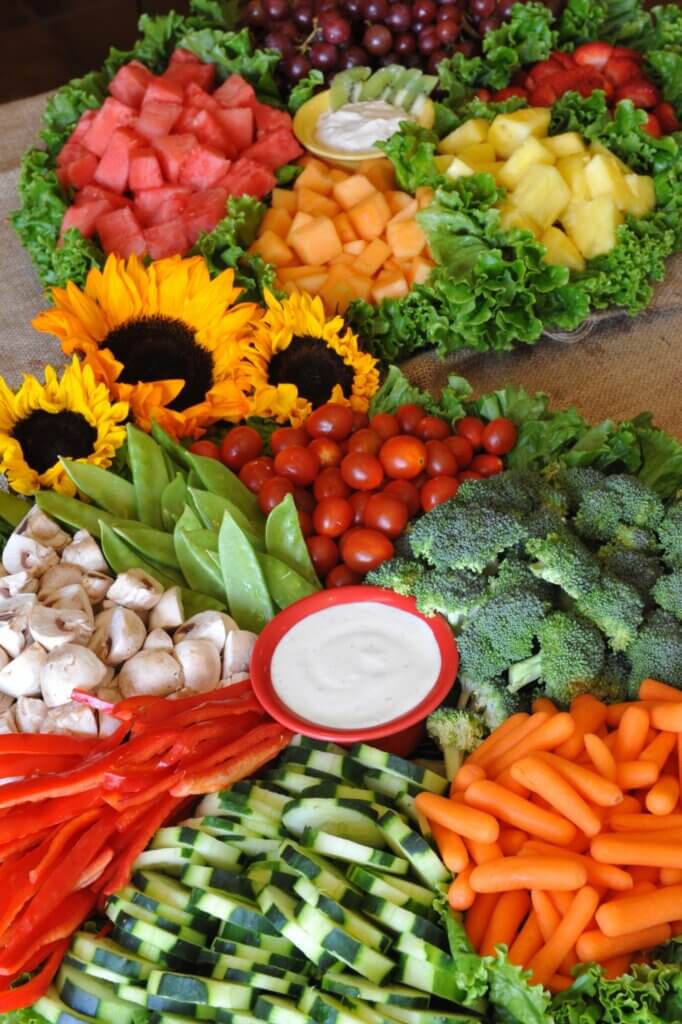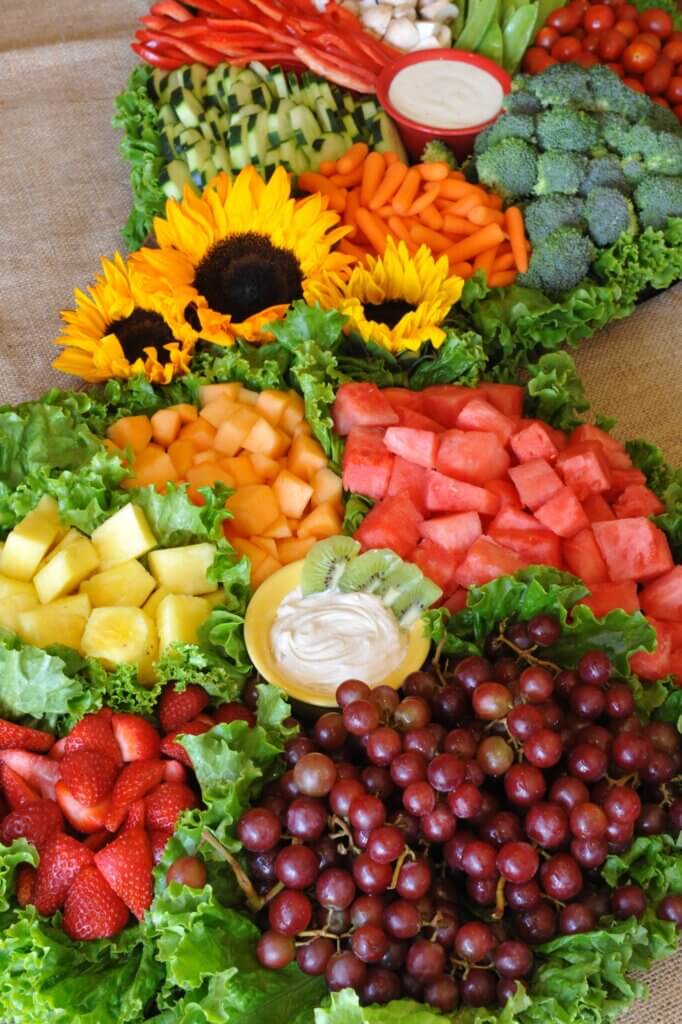 We do breakfast caterings, too!  From fried egg and cheese sandwiches to scrambled eggs with veggies or our famous egg salad all served on a yummy croissant.  Our mini muffin platters serve 8-10 and come with whipped honey butter.  We offer coffee and juice as well for your function.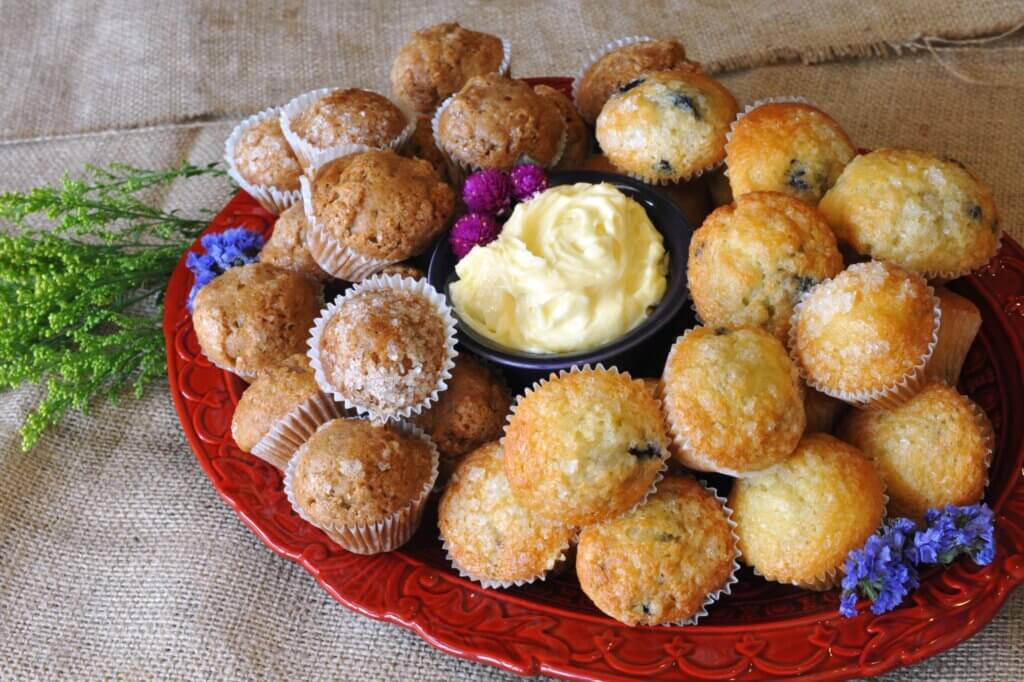 We can't forget about desserts….  You can choose from a dessert platter to your favorite in house cake made whole just for you.
 Some people order extra chocolate chip cookie trays or buy a sheet of our delicious brownies.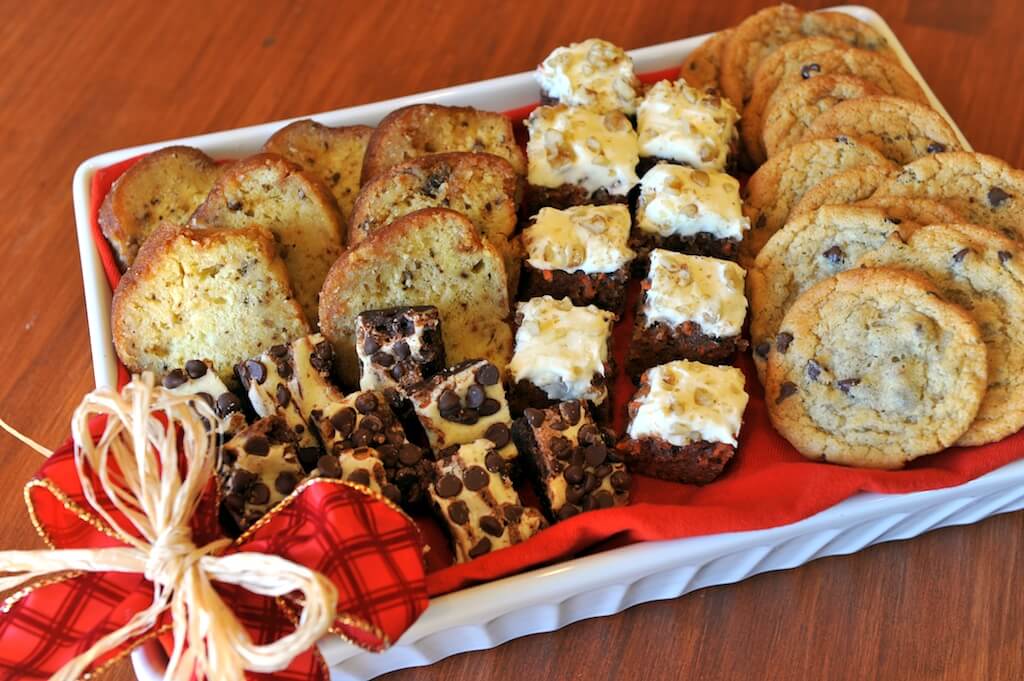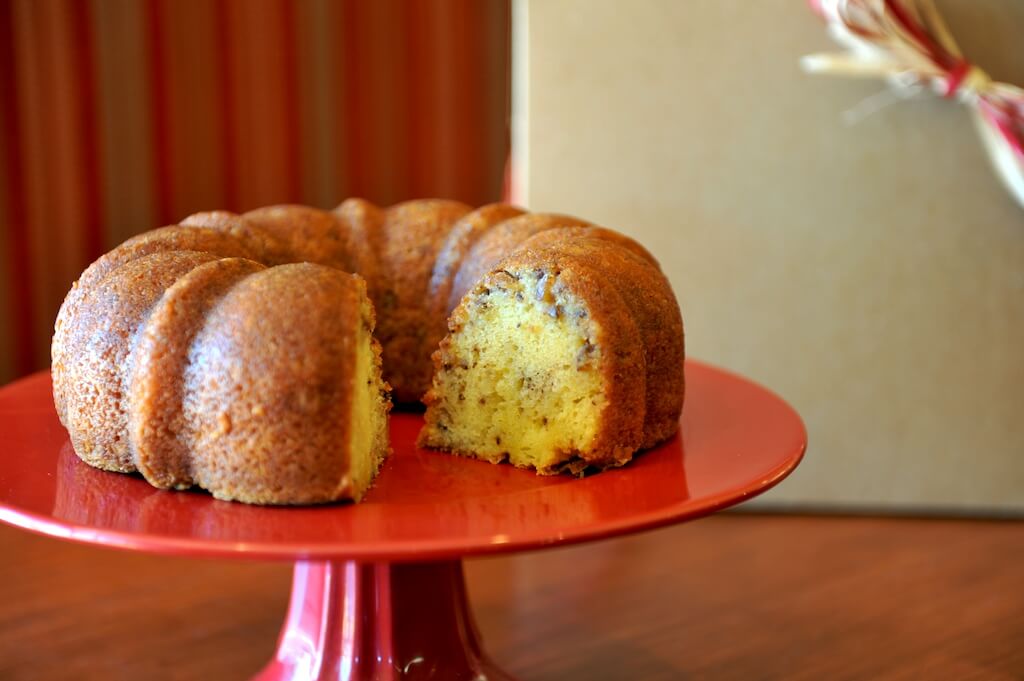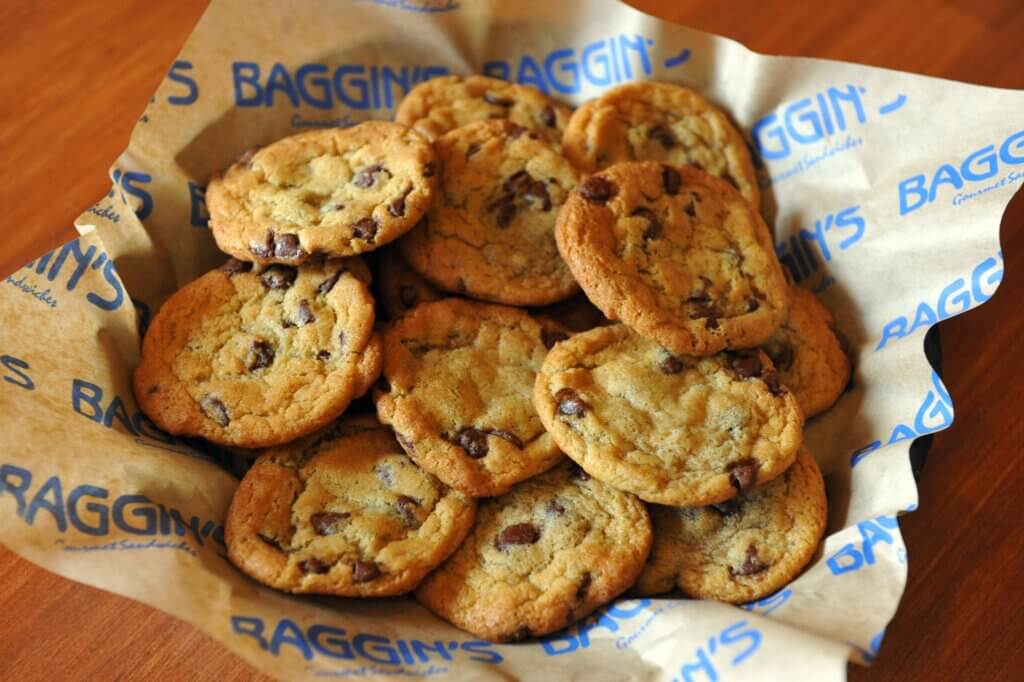 Our mini bundt cakes or single sliced rum and carrot cakes can be baked as a whole cake for your event. Each will be boxed and decorated to go.  They are $18.00 with 24 hours notice.
Please check our menu for current pricing.  
Frequently Asked Questions FAQ:
Sooooo….. how do I order?  
All of our caterings are handled within your neighborhood Baggin's stores.    A list of our locations —–> here
A catering menu can be found ——-> here
What if I don't know how much food I need?
Our managers are trained to walk you through your order.  They will ask you about the type of event, who will be attending and other pertinent questions to guide you to the best options.  Our philosophy is that we want you to be happy and not overspend on your event. We know that a sandwich to person ratio is often too much on most occasions.   After being in business for over 30 years, we are pretty good at figuring out what will work and  what will provide your guests or clients with the perfect amount.
Who should I speak with at your store? 
You can speak to the manager or assistant manager.  They are best trained to guide you through your budget and event needs.  Please call in the morning 8-10:30 or anytime after 2 pm.  Our phones lines are typically busy during lunch time and we don't want you to wait.   You may also make an appointment to chat with the manager in person.
Your chocolate chip cookie is free with a sandwich purchase in the store. Do I have to pay for them on a catering?
No!  Our chocolate chip cookies are who we are. We started business with that little chocolate chip cookie and think that is the perfect sized little top-off to our sandwiches. It is always FREE with any sandwich purchase including caterings.   Our chocolate chip cookies are sold by the dozens if you want to take more home.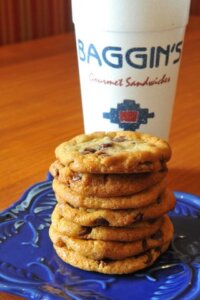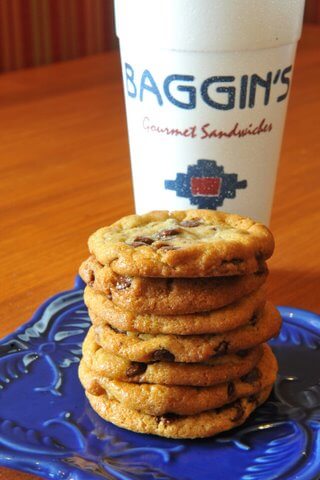 I need gluten free and vegetarian options. Do you have any?  
We take all dietary needs seriously.  Our managers can provide many options for you and answer any ingredient questions you may have.  For our gluten-free customers, we offer delicious sandwiches made as a salad.  We can also do lettuce wraps, too.  For caterings, we offer our single size salads as well as catering salads that can feed 8-12 people.  You can choose any of our Signature salads or make your own salad.  At this time, we do not offer gluten free breads.
Vegetarians seem to always choose our famous veggie sandwiches. We will plate them on different trays to separate them if needed.  Vegans often will take off the cheese on our Veggie sandwich. Both options are available for caterings.  Please check with the manager about gluten-free and vegan free dressing options.
I have a few people who are allergic to nuts. Should I tell the manager while ordering my catering? 
YES, YES and YES!  We take all food allergies seriously and do our best to accommodate all people.  Even if you do not order sandwiches that do not seem to have nuts, please tell us.  Our popular 12 grain bread is made with several different kinds of grains and nuts in which we make on our sandwich line. Please tell us so that when we make your sandwiches, we can sanitize the area and use different knives and spreaders.  There is always a chance of cross contamination when building on the same sandwich board.
We can certainly plate your nut-free sandwiches separate from the rest of your order. Just let us know.
Your manager can guide you to the best choices.
Can I pick up a whole Limoncello Cake on my way home? 
We bake all of our cakes daily so we need 24 hours in advance for all of our whole desserts.  Your choices are Zesty Limoncello, Delicious Rum Cake and Famous Carrot Cake.  These are boxed and decorated to go for you. Each cake is $18.00.
How long do I need for a catering order?
The more time you give us the better. We can better help you choose and guide you with more time. We recommend 24 to 72 hours for most caterings.
I am having a lot of people to my party.  What is the most a store can handle? 
We do caterings from 2 people to 2000 people and more.  We often are asked to cater large events at churches, festivals and fairgrounds.  We can even arrange for our refrigerated trucks to deliver your food for large functions.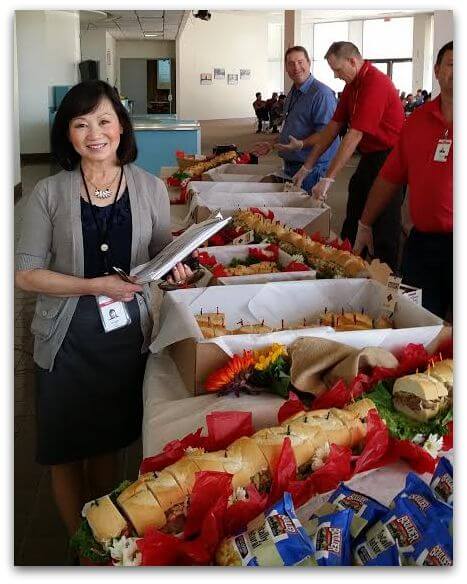 We recently did a large bagged lunch catering for Vail Pride Day at the fairgrounds.  This is the initial setup at one of our stores so that our trucks could deliver them fresh and cold.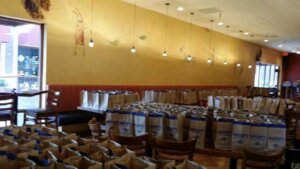 And we go to many school functions and festivals.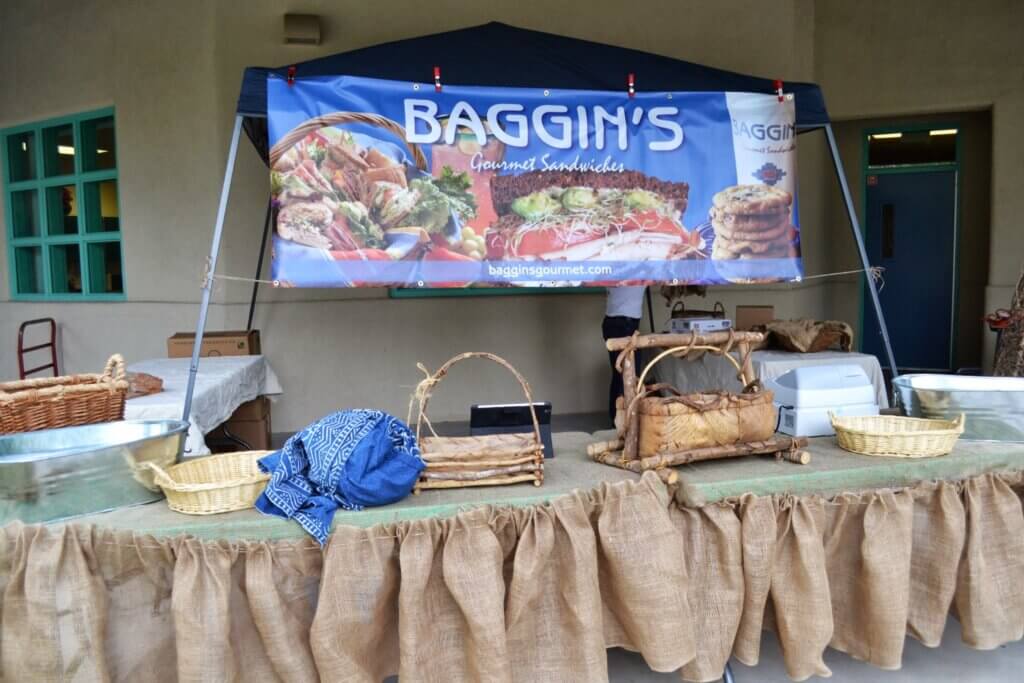 My co-worker arranged for a VIP catering? What is that? 
This is an extra service where we will help set your tables for you. We will bring bring and set up your food as well as bring tablecloths and certain elevation pieces to make sure your food stands out.  We set up the order and decorate with flowers and garnish.  All food is displayed with our premium baskets.  This is a great option if you are short on time to set up the food and tables yourself.  We even bring extra flowers and garnish the table for professional decorated look. The starting charge for VIP caterings is $25.00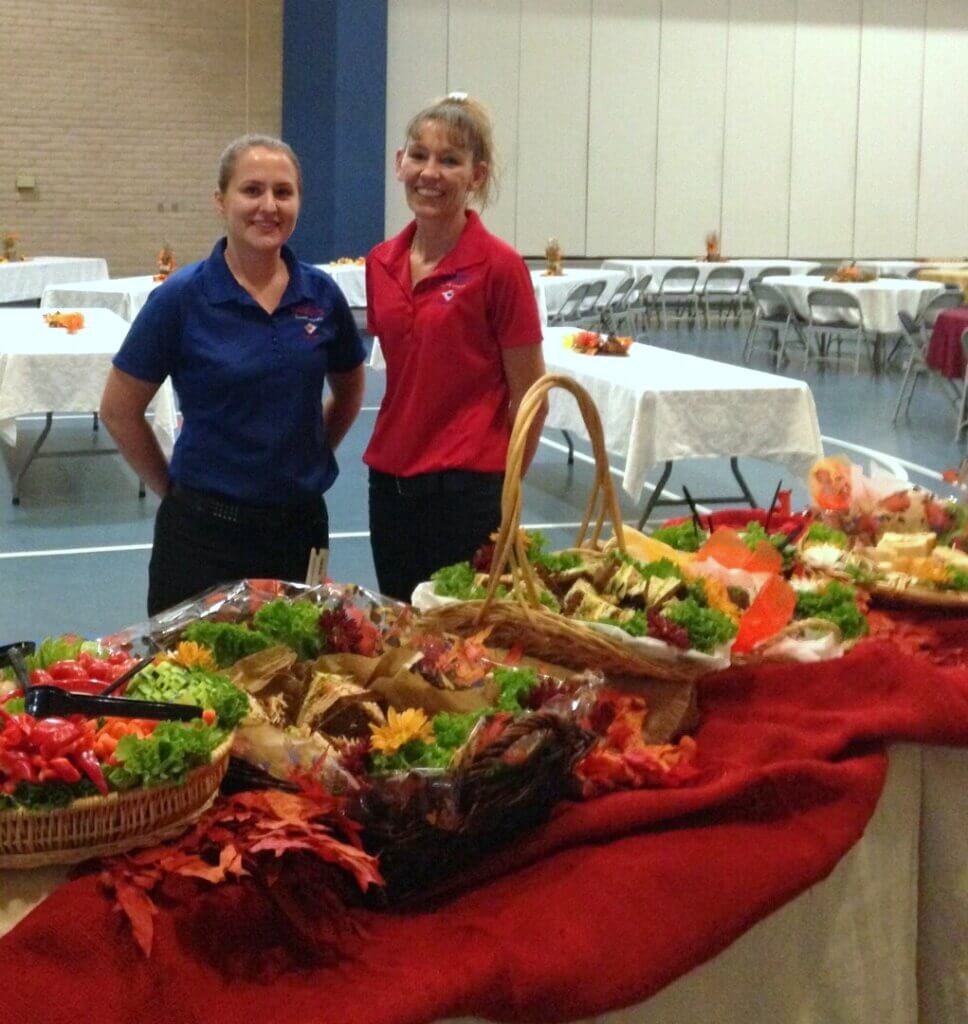 What is your $8.00 catering fee? 
Our catering fee covers the supplies you use and the extra labor needed to decorate and package your catering.  We bring in flowers and other decor items for caterings.  We put a lot of time in making sure your food will impress your guests and clients.  It also includes the utensils, napkins and plates you will need for your event.  The $8.00 does not cover non returned baskets.
What if I choose not to return that cute basket after my luncheon?  
When you choose to use our baskets for catering, you are borrowing them. We do not charge deposits on our baskets but we will charge you $25.00 per baskets if arrangements or drop-offs does not happen within a 24 hour period.  This covers the replacement cost to the store in labor, time and actual baskets.
I have a breakfast meeting? Can you help me?  
Yes. We can! We serve yummy egg & cheese  sandwiches on croissants with your choice bacon or house baked ham.  We also bake our own mini muffins.
I hope this helps you for your future meetings, events and parties.  Please feel free to contact the main office or any store if you have questions.