Salad season is upon us and for those who live in the Old Pueblo, this season starts early.   We have been ramping up production in our Baggin's commissary due to the demands of our gourmet salads.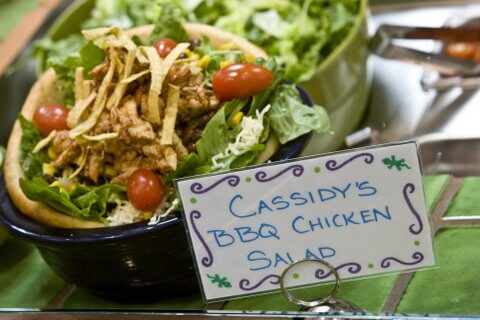 Nick Glauber, our food and beverage supervisor takes pride in the changes we have made to our standard salad mix.  "We have changed our garden salad mix base from a primarily iceberg lettuce to a much more vibrant mix of greener, healthier lettuce like romaine, spinach, arugula and mustard greens."
Nick and his staff have even revamped our Thousand Island, Ranch, Caesar, Blue Cheese and Honey Mustard salad dressings so that we are making them entirely from scratch in our kitchens.  This truly is what gourmet is all about: high quality ingredients made fresh.   Our main kitchen builds an average of 225 salad bases nightly to be shipped out to our stores throughout Tucson.  Our high salad season starts now and Nick's crew will clean, prep and ship upwards of 350 a day.
All of our veggies are bought through a local produce company.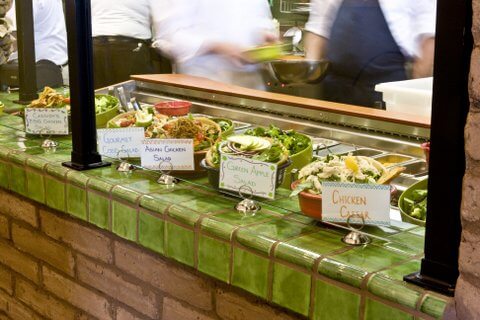 Our newest location, Baggin's Gourmet at the William Center, has added Gourmet salads in bread bowls.  These bowls are baked fresh daily in our store.  Come early and you can inhale that heavenly just-baked smell.   We are looking to add the bread bowl as an option possibly in future to a few of our other locations as well.
We have added a traditional Cobb salad to our menu at all of our stores which proves to be a best seller.  With many options at Baggin's, you will find a salad that fits your craving.
Chicken Caesar salad
Asian Chicken Salad with a Thai Peanut dressing and pasta.
Gourmet Cobb
BBQ Chicken Ranch Salad
Almond Albacore Tuna Salad
Almond Chicken Salad
Our William Center includes the above salads in our gourmet breads bowls as well as these delicious salads:
Aunt Chucks Green Apple Salad
Cassidy's BBQ Chicken Salad