GOT PICKY EATERS?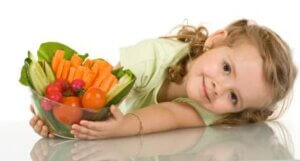 I think every parent has dealt with a picky eater or had a defiant child go through a picky eating phase when it comes to meal times.   Recently, my 4th grader declared that she was going to be a vegetarian.
"I no longer want to eat animals", she protested.
"You do realize that chicken nuggets are animals."   My rebuttal did not phase her in the least.  In fact,here we are six months later and she is still vegetarian strong.  You would think that this would be a major change for this kiddo but it really has been more of an issue for me.  I am of the meat-eating variety and I have really struggled with finding fast easy foods for her to eat or foods that my entire family will eat that is healthy.  Just because it can be classified as vegetarian does not exactly mean healthy.  ("Isn't sugar vegetarian?")   She has learned a lot about where her food comes from and what it does in the body which means less fights at the dinner table for this family.  Getting her involved was key!
Check out a few resources that can be helpful for your picky eater: 
1)  Locally, the HealthyPima website, (funded from the Pima County health department)  has vasts amounts of information on getting your kids to eat and be healthy.  It is filled with links, articles and activities for parents and kids wanting to know more.
2)  Also, the MayoClinic has a great article on how to handle picky eaters.  It is all about perspective.  Having a child help with meal and snack preparations makes them feel like they have a little control which in turn gives parents a little peace of mind during meal times.
3)  Don't forget to stop by any of our Baggin's locations because Kids eat free February 25th and 26th, too!
So if you are looking to say NO to chicken nuggets this weekend, stop by any of our Baggin's Gourmet Sandwich locations because KIDS eat FREE with an adult.  We have turkey, veggie, roast beef , ham and peanut butter options for your kids.  They can even get it without the sprouts!
Have a fantastic week!
Oh, and don't forget to check us out on Facebook and Twitter to get great deals for your whole family.