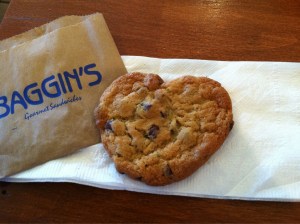 Wow! This is our very first post!
We, at Baggin's, normally are quite a chatty bunch, but now that there seems to be a platform for such things all I hear is crickets. So, I will be the first to dip my toes in this blogging pond by telling you that this blog will be about what is going on at Baggin's.
Trust me when I say, there is always something going on at Baggin's. If there is ever a place that would make good reality TV, it would be a restaurant.
We are a very optimistic group of people. We love a great inspirational, a pull-up-yourself by the bootstraps kind of stories and we always try to find something to be grateful for even in the midst of a terrible day.
Behind every business, there are people; this includes the people behind the counter as well as the ones in front of our stores. We want to feature our awesome customers as well as show you want it's like to be a Baggin's employee.
This blog will be about new and upcoming foods and specials. We want to invite you into our Baggin's home. We want to hear your suggestions, complaints, passions, and your ideas.
Welcome!
~Sunny B